UNITY AND DIVERSITY
About Unity and Diversity Sault Ste. Marie
History
Unity and Diversity Sault Ste. Marie has a rich and active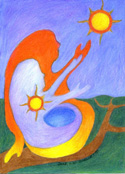 history dating back to its initial mobilizing event, a one-day conference titled "Can We All Get Along?" held March 21, 1994 in commemoration of the United Nations International Day for the Elimination of Racial Discrimination.
Since that inaugural conference, the group's activities have taken off into numerous directions. Unity and Diversity takes to heart that education and dialogue are key components necessary to eliminate racism and discrimination at the community level and therefore provides opportunities for community education.
Between 1994 and 1999, Unity and Diversity hosted a lecture/workshop series which featured the following speakers and events:
· "The Earth is But One Country", lecture by Dr. Rod Clarken, University of Northern Michigan (March 26, 1994)
· "Standing Together: Setting a Community Standard" , lecture by Julie Lee, Teacher, Researcher, Counsellor/Advocate (February 15, 1996)
· "Beyond Racism: Building Positive Relations and Creating a World in Which We Wish to Live", lecture by Reginald Newkirk, human rights expert and former race relations coordinator of Nova Scotia (October 12, 1994)
· "Towards Service Equity: New Ways of Doing Business" Roberta Jamieson, Ombudsman of Ontario (January 19, 1995)
· "How Racism Affects Our Community: An Evening of Dialogue", panel discussion with Andy Tamas, race relations consultant and Chief Barry King, Sault Ste. Marie Police Service (March 21, 1995)
· "Male-Female Relations Across Cultures", lecture by Gita Badiyan (May 25, 1995)
· "Oppression and Its Effect on the Body", lecture by Clarissa Chandler, consultant in human resources, organizational development and community building (March 20, 1997)
· "Violence Free Society", panel discussion featuring Gordon Naylor, Executive Director of the Nancy Campbell Collegiate Institute (November 9, 1999)
Using drama and experiential learning opportunities, Unity and Diversity also hosted:
· "Shelter From Assault", a dramatic presentation which highlighted issues such as: stereotyping of ethnic groups, the poor treatment of immigrants, the beauty myth etc. (October 24, 1995)
· Bafa, Bafa (a renowned cross-cultural simulation led by Communitas Canada) where participants in this 'game' simulation lived and coped in a 'foreign' culture and then discussed and analyzed their experiences with one another (October 26, 1995)
And what better way to bring the message of diversity home but through the sharing of music and art! Unity and Diversity also brought musicians such as Jack Lenz (Canadian musician and composer), the Plains of Fascination, a Toronto-based rap music group with consciousness raising lyrics and Heather Bishop, folk singer and song writer to share their talent with the Soo community.
One of the highlights of Unity and Diversity's work in Sault Ste. Marie has been the gold medal that members Susan Garrett and Faisal Ali received from the Human Rights and Race Relations Centre in recognition of their book titled "Looking In … Reaching Out, Racial Discrimination Awareness and Solutions" (April 1996). This book was developed in partnership with the Sault Ste. Marie Police Service and highlighted issues related to policing, race relations, harassment, anti-discrimination and stereotyping.
This book was not only a great accomplishment for the group but also demonstrated Unity and Diversity's commitment to networking and partnering with other community groups in order to get their message out. Some of their other many partners include: Algoma University College, Lake Superior State University, the Sault Ste. Marie Police, the Canadian Association of University Women, In the Interest of Women, the Social Justice Coalition, local businesses etc.
Members:
Gayle Broad, Algoma University College
Margaret Cameron, Community Member
Brenda Combs, Batchawana First Nation
Cecilia Fernandez, Community Member & Project Coordinator
Micheline Findlay, Community Member
Susan Garrett, Community Member and U&D Secretary
Charlotte Haldenby, Community Member, KAIROS
Max Iland, Community Member and U&D Chair
Connie Manitouwabi, Community Member
Brent McHale, Metis Nation of Ontario
Jennifer McIntyre, Community Member
Sean Meades, Sir James Dunn High School
Mehran Mogharrabi, Community Member
Carol Nadjiwon, Batchawana First Nation
Marian Nolan-Vella, Community Member
David O'Dell, Sault Ste. Marie Police Services
Arlene Pitts, Community Member
Paul Reid, Community Member
Chantal Santerre, Association Centre Francophone de l'Ontario
Cheryl Smithers, Algoma District School Board
Diana Whiteloon, Community Member
Janine Zack, Garden River First Nation
Jin Ji-Zhong, Community Member